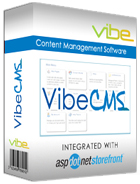 Vibe CMS

, an easy way to update your website or store without any technical expertise!

Whether you are building a small website from scratch or redesigning a large corporate website, Vibe CMS will provide the content management solution you need to get the job done.
Manage Your Site

Surf and Edit -

visually locate editable areas of your site and edit in place.

Preview -

see your saved changes to content prior to publishing.

WYSIWIG editor -

requires no HTML experience to edit content in a friendly, word-processor style interface. HTML friendly? No problem, contains a view to edit the HTML too!

Document Manager -

upload and maintain your site documents to keep them up to date. Link directly to a document from content.

Image Manager -

upload and maintain your site images. Upload and display directly from content editor.

History and Rollback -

Maintain a history of changes and rollback to previous versions.

Templates / Master Pages -

Build web pages based on templates for consistency. Fully compatible with ASP.NET Master Pages.

Multi-Domain Support -

maintain multiple domains through one database.

Community

BlogView -

a client side display that can be added to any drag-and-drop placeholder in the CMS. This control transforms a CMS Forum object, with the topics and posts and the replies as comments. Displays categories, most recent posts, and archive tree by date.

Forums -

Forum support for your CMS users. Forum lists, topic lists, and reply lists can also be merged to the front end as part of your document.

Calendars -

configurable, theme-based, client side event listing. Coming soon! client side display that previews three-months of events with listing below and click to filter capability.

Gallery -

client side display that creates albums, slideshows, thumbnails, and photo displays managed through simple upload to a folder.

Control Your Editors

Security -

Supports multiple security roles and users, with both folder and document type granular permissions.

Workflows -

Notify your admins and restrict higher functions, such as publish and delete, by setting up customizable workflows.

Coming Soon!

Content Search -

configurable search to search all or part of your CMS content

Integrated site login -

available now as an optional add-on, but soon to be integrated, the ability for users in your CMS to be automatically logged into your .NET membership enabled website.
| | | | | |
| --- | --- | --- | --- | --- |
| Pricing and Features | Community Edition | Extended Edition | Advanced Edition | Professional Edition |
| Self-Hosted | $299 | $599 | $899 | $1199 |
| Hosted | $49 per month | $89 per month | $139 per month | $199 per month |
| Security | 1 user, 1 role | 2 users, 2 roles | 5 users, 5 roles | unlimited |
| Add your own designer controls | - | - | | |
| Add your own customized workflows | - | - | | |
| Create your own CMS document types | - | | | |
| Add extensions to CMS document types | - | | | |
| Override the look and feel of CMS controls | - | - | | |
| Add custom items to CMS menus | - | - | | |
| Manage default permissions | | | | |
| Add custom profile fields | | | | |
| Static pages | up to 10 static pages | up to 25 static pages | up to 50 static pages | unlimited* |
*cost of disk storage may apply for large sites when using hosted version.

Vibe CMS is easy to integrate with AspDotNetStorefront stores!
Manage your content and SEO with all thep ower of a content management system without having to give your content editors access to your AspDotNetStorefront management console. **
The AspDotNetStorefront connector is free and available for Extended, Advanced, and Professional Vibe CMs editions. Basic installation of the AspDotNetStorefront connector costs $100.
For more information, email us at sales@alynnlee.com or give us a call at 804.330.5050 for a free demo!
**Product does not include AspDotNetStorefront license.
Save

Time & Money

Cut out the middle man by using the Vibe CMS to update your website!
Why pay someone to update your website for you days after you need it when you can use the Vibe CMS to quickly update it yourself?
Easy

to Use

The Vibe CMS is designed with ease-of-use in mind!
Our content management tools allow you to easily and instantly update your website content without any technical expertise.
Client

Benefits

As a client, you will receive the following benefits:
Vibe CMS

Tutorials

Cut out the middle man by using the Vibe CMS to update your website!
The Vibe CMS is a new product designed specifically with ease-of-use in mind. With a simple interface and easy to use navigation, this product is great for small to medium sized websites and users who have little or no technical experience.